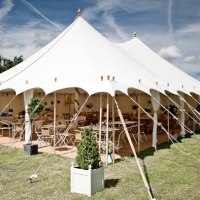 Marquee Hire Guide
Enjoy the outdoors without worrying about the weather. Marquee and tent hire suppliers offer a huge range of options that will help you create a stunning event.
So you have an event coming up and you are considering your venue options - could a marquee be the answer? Well for many events they are an ideal solution to provide a tailored space for guests, visitors, caterers or entertainers. There's lots of choice out there and they will usually cover a large part of your budget so making an informed decision is important, after all this may be the shell that all the other elements of your event will be built around. That's why we've put together this guide to tent and marquee hire covering all of the essential details and some useful tips and ideas.
Posh Frocks and Wellies
Why Should I Choose a Marquee For My Event?
Is a marquee right for your event, and what are the benefits?
Events that would work really well with a marquee could be a wedding, celebration, garden party, charity event, local market or fair, festival, sporting event or corporate exhibition or promotion. The list could go on, but any event that requires a reasonable space or where there is a desire to blend with the outdoors, without losing out to the British weather would probably benefit from a marquee or tent. Here's some of the benefits of hiring a marquee for your event:
Flexibility - no matter what size your event, there'll be something to suit. Unlike a fixed venue, you can transport a marquee to a location of your choosing (within reason!)
Choice - there's a huge choice of marquees and tents available for hire in the UK in various shapes, sizes and designs, so you can find something really tailored to you or your event.
Everything Covered - many marquee suppliers offer all of the extras you need to get your event sorted, so you may be able to book everything all together in one easy package.
Country Marquees
What Do I Need to Consider?
There are a few important details you'll need to bear in mind before going ahead.
The Site
If you have a large garden or your own land (or know someone that does) this could be an ideal site for your marquee. However many venues have land available for marquees, from hotels to castles to caravan parks. Local marquee suppliers will be able to advise you about suitable locations, but if you have somewhere specific in mind there's a few things you need to check first. The land ideally needs to be flat, however it doesn't have to be perfectly smooth as there are a range of flooring options for grass, soil, concrete and even sand pitches. The site needs to be clear of overhead power cables or underground pipes, but most suppliers can check this for you. You'll also need to think about access as large vehicles may need to deliver equipment. How are your guests or visitors arriving - is there parking available or public transport close by?
The Interior
Again, the options here are endless but the type of marquee or tent you hire may determine your interior decor. If you are having a wedding or party you may well have a theme and tents lend themselves well to outdoor, bohemian or festival type themes, but more traditional themes often suit a framed or traditional canvas marquee. It's important to find out what your chosen supplier includes in their package, so think about your flooring, any wall or ceiling linings, doors and windows. Many suppliers will also provide chairs, tables and other furniture, down to smaller extras such as coat rails or guest umbrellas.
Catering
If you're planning on having your catering taken care of on site, there will need to be a separate area for food preparation and cooking. This won't be a problem as long as you have a power supply close by! If you're food is coming from elsewhere, you'll just need to think about easy access for the catering staff and possibly storage. Don't forget space for a bar, if your marquee supplier doesn't offer a bar, there are plenty of mobile bar suppliers who'd be happy to help.
Lighting and Heating
Unless you're having a medieval theme - this is an important one! You'll need to be close enough to a power supply or may need to include a generator in your hire package. You don't want your guest to be chilly so suppliers will normally offer options for heating, and (on the rare occasion that you may need it) air conditioning.
Loos
Another vital consideration, you want to make sure there are facilities close by for your guests and don't want to have them traipsing over fields to get there! Again, marquee suppliers may well include these in their packages, but if not there'll be other loo suppliers in your area.
What Kind of Marquee Should I Go For?
There's something to suit almost every occasion, so think about size, style and function.
Marquees
Although, they come in a range of designs, marquees tend to be the traditional choice, particularly for weddings or more formal events. A framed marquee will become almost like a permanent structure, and is great for larger events, whereas a canvas marquee may suit a slightly smaller event and often has sides that can be removed in good weather.
Olympus Marquees
Big Tops
Big tops are a fun option that can cater for large events. They're great for themes or events expecting lots of children. They are also particularly good for housing entertainment, and not just the circus! How about having a live band right or dance floor right in the centre?
Bigtop Mania
Giant Tipis
Built on a tripod arrangement of poles, these tents look fantastic so are perfect for those looking to impress. The sides can usually be raised in nicer weather and two or three can be joined together to create an even larger space.
Wedding Tipi
Yurts
A great option for a smaller, more intimate event. Usually without windows, yurts can be slightly darker and cosier, so may suit an event in the cooler months. Laid back floor seating, cushions and beanbags work will in these tents.
Yurts Up
Stretch Tents
Stretch tents are really visually appealing, and as the name suggests, they stretch over the landscape and blend in well with most surroundings. They are a more open option, as there are no doors or sides, but this gives good flexibility for your layout.
Maverick Marquees
Other Options
For something really unique or specialised there are even more options such as Chinese hats, inflatable tents, clear roof marquees and beach tents, depending on how imaginative you want to be!
Marquee FAQs
The fine detail. If your question isn't answered here your supplier will be able to talk everything through with you.
What about insurance?
Most suppliers will include the appropriate insurance, or you will see an optional damage waiver of around 5% added to the quote.
What about bad weather?
Most structures are built to withstand the British weather so don't worry about the wind and rain – only unusually high winds (e.g. 60mph) would cause a concern.
What if my chosen site is on a slope?
It is possible to erect marquees on sloping ground using a floor levelling system or scaffolding, but this will come at an extra cost.
How long will it take to put the structure up?
This will depend on the tent and the supplier. Some can be up in the day but some larger structures are better set up over a few days, in advance.
Will a marquee or tent damage my garden?
There shouldn't be any lasting damage. Grass should be cut short first and may just discolor slightly, depending on how long the structure is up.
Do I need a drinks or entertainment licence?
Normally you would only need this if you are charging for drinks. If this is the case, your bar supplier may be able to organise this for you, check with your local authority if you're not sure.
Lets Do It!
Great - so you've decided a marquee or tent is the right option for your event - what next?
Find the right supplier for you, get quotes, get in touch, have a chat with someone and ask any questions you might have. It's a good idea to have a site visit with a representative so you can cover everything. Make sure you begin planning in plenty of time so that when you come to book you're not disappointed by lack of availability. Although they won't need to know exact details, your supplier will need to know whether a catering area is required, or a stage for a band or speaker is needed, for example, so have an outline of your other requirements ready too.
Featured Marquee and Tent Suppliers
Some of our fantastic tent and marquee suppliers.