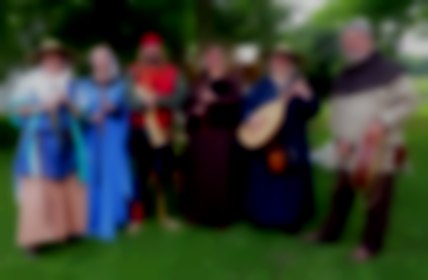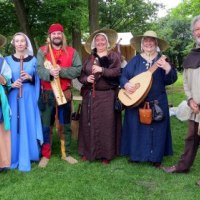 Maranella
Costumed Medieval Minstrels, NW England and W. Midlands. Music and stories for medieval themed weddings, banquets and fayres.
About Maranella
Costumed medieval band. We dress in authentic medieval costume and play a huge range of period instruments including lute, rebec, vielle (medieval fiddle), medieval harps, recorders, shawm, medieval bagpipes, hammered dulcimer, nakers, timbrel and more ... We aim to create the atmosphere of a medieval baron's hall where we, the minstrels, entertain the guests with our songs and music.
Our music includes songs such as Sumer is Icumen In, Miri It Is and Winder Wie Ist (all on the theme of the weather - Brits were obsessed with it even 800 years ago!); medieval French songs like Douce Dame Jolie which is said to be one of the most beautiful tunes ever written, it was composed 700 years ago by Guillaume de Machaut; and mesmeric medieval tunes from Italy, France and Spain, tunes like Chanconetta Tedescha with its lively repeating phrase and catchy rhythm. We are lucky enough to have a professional story-teller as one of our members so we can add medieval tales of witches, knights and mythical beings to our programme.
Services
Typical Clients
We provide authentic music for all medieval themed events including weddings, banquets and fayres
Reviews
This supplier does not yet have any reviews

Get quotes from Maranella
and dozens of other professionals in your area