The National Association of Bubble Soccer (NABS) was formed in the States in 2015 and helped grow the stature of Bubble Soccer throughout America.
The game has since made a swift journey across the pond, had its name suitably anglicised, and is now played up and down the UK.
What is Bubble Football?
Bubble Football (or Zorb Football) was created in Norway by Henrik Elvestad and Johan Golden in 2011, appearing on their comedy sports talkshow 'Golden Goal'. The ingenious adaptation on the world's most loved sport has since become a worldwide phenomenon.
Gameplay sees a standard match flipped on its head (sometimes literally), as players enter into full-blooded collisions safe in the knowledge that their newly donned Body Zorbs will soak up the impact.
In this action-packed game, skills and trickery go out the window and are replaced by a series of high-impact collisions as players scrap for possession.
It's not every day you can afford to charge hell for leather at another human being without risking a night in A&E, so enjoy it while you can.
So, Why Play Bubble Football?
Still a little skeptical about giving Zorb Football a go?
Here are 4 reasons why Bubble Football is completely awesome:

1. The Kick Off
Bubble Football starts a little differently to a conventional football match with all players charging straight towards each other in a bid to win the ball.
2. Big Hits
With a huge bubble of space around you, the hits just keep on coming. All we can do is thank God for that bubble!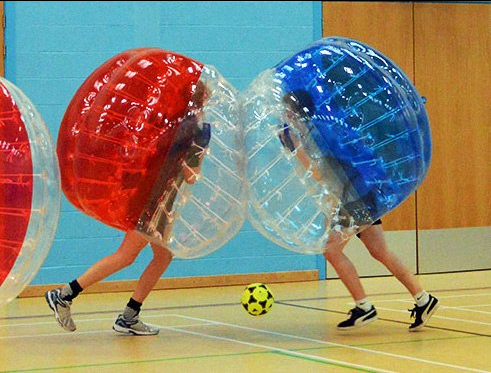 3. Immobilisation
When the bubble settles in an inverted position, players can become stuck with their legs flailing helplessly - a rare, yet extremely hilarious & debilitating predicament.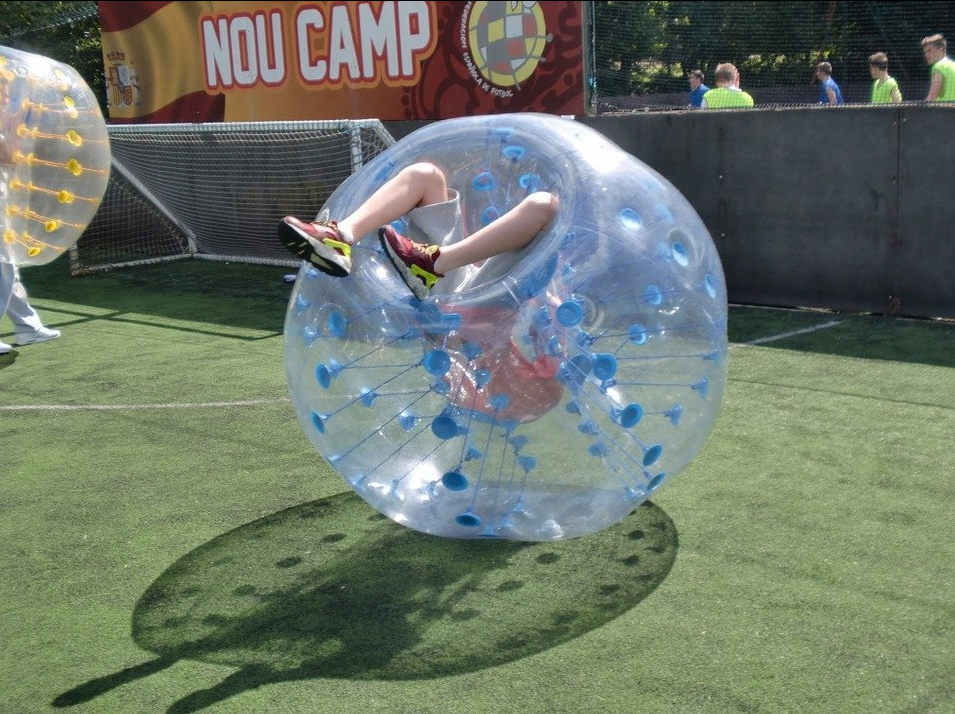 If you want to learn more about the intricacies and rules of the beautiful game of Bubble Football, you can browse our range of remote Bubble Football suppliers to find out more and get booking into this fantastic game!

Bubble Football FAQs
Still have some questions? Hopefully this short Q & A will help to provide some answers
How does booking work?
You can book in right now with one of our recommended Bubble Football hire companies.
Companies will offer a selection of different packages for you to chose from. Some companies will have a venue included, some will require you to book your own venue and will turn up with equipment and event coordinators - don't worry if there are no Bubble Football companies in your area, many companies will be happy to travel to a venue near you.
Submit your request and see what you find!
What equipment is provided?
Companies will provide the bubbles (obviously), goals, footballs and event coordinators. You just have to show up ready to play and have some fun.
How much does Bubble Football cost?
Costs can vary between suppliers but prices tend to equate to around £15-30 per person depending on how long you'd like to play and the number of guests/rounds you're up for.
How many people can play at one time?
Most companies provide 10 suits to cater for 5-a-side games. But others may have up to 16 suits to cater for 8-a-side matches.
What are the weight and height restrictions?
The standard size bubbles require you to be at least 5 foot tall and weigh no more than 22 stone, though some companies offer special Zorbs to cater for children's Bubble Football parties too.
What other fun & games can I include at my event?
Other fun games such as Inflatable Sumo Wrestling or Human Table Football may also be available to play at your event from larger suppliers like ABC Leisure. Check with individual suppliers on what games they offer to organise a whole day full of fun and games.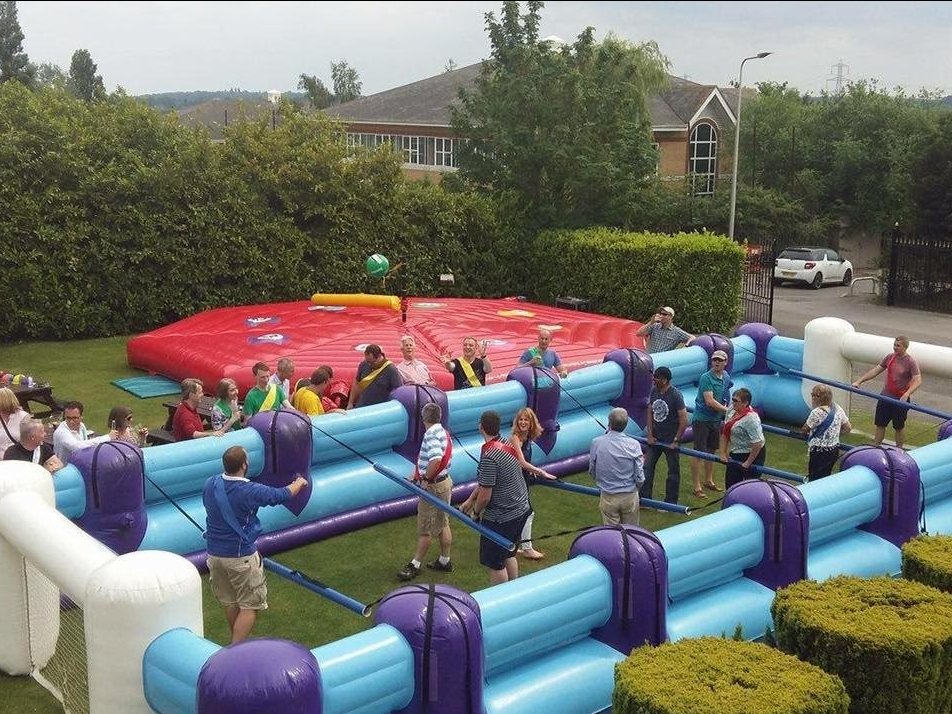 Give It A Go!
Bubble football is a great option for any social occasion including stag or hen dos, birthday parties and corporate team events. So if you're a lover of action-packed, adrenaline-infused outdoor team building activities, or perhaps just fancy wiping your friends out, then this is the game for you!
Don't miss out! Find and book bubble football suppliers in your area using the quote request form below.