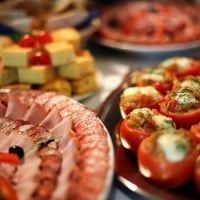 Canapés, Finger Food or Buffet?
How to Choose Your Event Caterer
There is such an abundance of choice when thinking about what kind of food to feed your guests that it can feel quite overwhelming to start with.
Catering is a crucial part of most events – get it right and your guests will be waxing lyrical about the divine salted caramel mini doughnuts for weeks to come! But get it wrong and all they will remember were the burnt burgers, lack of veggie option, or (worst of all) going hungry because there wasn't enough food to go around.
But fear not, there are a few simple factors that can help you navigate your amuse bouches to buffets. Here we've laid out some helpful guidance to get you started.
Firstly, a basic guide to catering definitions:
1. Canapés – small, elegant bite-sized nibbles, served on trays. Always popular (who doesn't love a teensy spoonful of deliciousness?) but not that filling. For light sustenance aim for 6-8 canapés per person.
2. Finger or Bowl Food- As the names suggest, these are small snack size dishes, usually served on trays. More substantial than canapés, but still lighter than a proper meal. Aim for 3-5 servings per person.
3. Buffet - A self service table or station where guests can help themselves to a selection of dishes.
4. Mobile Catering - Self contained catering that can be served straight from a van, cart or pop-up stall. Ideal for outdoor events or venues with no kitchen facilities
5. Sharing plates or 'family style' - A more informal option for a seated dinner. Large dishes are served to the table rather than single portions.
6. Individually plated dining - A sit-down meal with each guest being served their own plated portion for each course. The easiest option is to choose a fixed menu in advance, where everyone has the same dish (special dietary requirements aside). Alternatively, ask your caterer for a small selection (ie. 3 options) to circulate to your guests in advance, but this does require the hassle of you collecting in all their choices.
The Occasion
A key element in planning your event catering is finding a style of service that suits the occasion.
If you're planning a traditional wedding 'breakfast' (which, confusingly, is the dinner given after the wedding ceremony) most couples opt for a seated dinner. However if it's an office networking event, your guests will probably prefer smaller bites that they can grab as they mingle. Got a family celebration to plan? Buffets can be a convenient and cost-effective way to feed the crowd.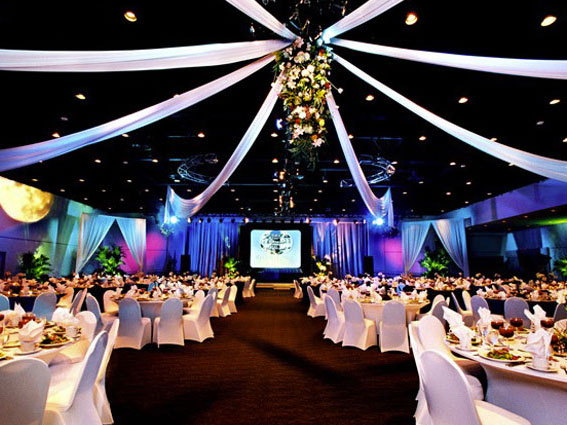 Photograph: Entertainment NI
Top tip: The crucial question to ask is, how does food fit into your event plan?
Is there a grand meal that provides a focal point for the occasion? Does the catering need to fit in around dancing, speeches, presentations, or other activities? Do you want your guests to get to know each other around the dining table? Whatever the format, it is important to consider timings for setting up, service, eating, and clearing up afterwards.
The Facilities
When choosing your caterer always check what facilities they require.
Ideally you should bear this in mind when you are selecting your venue. If you've hired a hall or barn, does it have a separate kitchen space? Is there a reliable power supply and running water? If you are out in a field, can you bring in catering vans or BBQs that are self-sufficient, or will you need to hire a generator? Do they need washing up facilities? If your caterer is coming to your home or office, will they also supply plates, cutlery, napkins and glassware?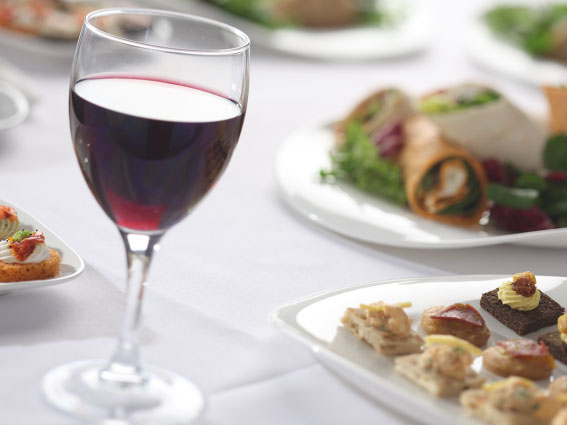 Photograph: Claret Catering Ltd
Top tip: Don't forget to check what to do with all the rubbish! Can your caterer take it away with them, will the venue dispose of it, or do you need to arrange a collection?
The Menu
Once you've chosen your caterer, the final stage is to check you are happy with the menu on offer.
When choosing your dishes your caterer should be able to help you select food that fits the occasion. If it's autumn/winter then warm, comforting dishes tend to be more popular. And likewise, if it's spring/summer then make the most of seasonal fruit and vegetables with lighter, more salad-based dishes. Think about the ages, gender balance and cultural backgrounds of your guests. Do you need to consider kosher or halal options? If there is a lot of drinking likely to happen, will the food be substantial enough to help 'line' your guests' stomachs?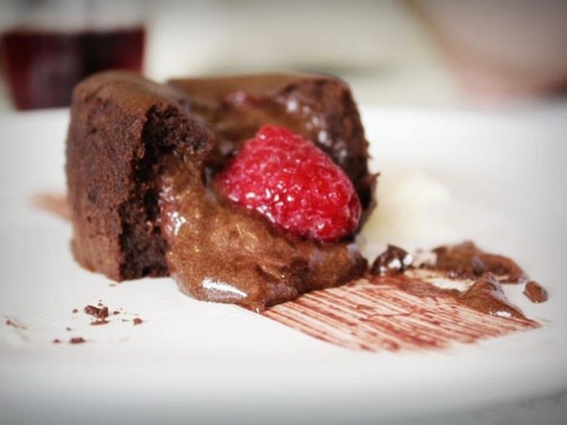 Photograph: Chef's Compliments
Top tip: As a general rule of thumb, try to provide a meat, fish and vegetarian choice for the main course.
Last but not least, don't be afraid to ask questions! Food preferences can be very personal, but if you are selecting the provisions for a large number of people then you need to feel confident in your choices. Never be too embarrassed to ask what an ingredient is if you don't recognise something on your proposed menu. Want to know if the meat is free range, or the vegetables organic? A good quality caterer should be happy to tell you. And when it comes to covering specialist dietary requirements, it's always best to double check rather than assume.
I hope you find this guide useful, and if there's one final thing to say, it's Bon Appetit!

Guest Post by Venetia Harpin
London-based Event Producer
Venetia Harpin is our Event Professional-In-Residence . Her work has ranged from luxury drinks receptions, to running around at muddy festivals, with everything from fashion shows, wedding receptions and brand launches in between. With over 10 years of producing events under her belt, she now specialises in creating bespoke and immersive experiences.
Find the perfect caterer for your event
Reach out to thousands of event caterers with our simple 3-step form.