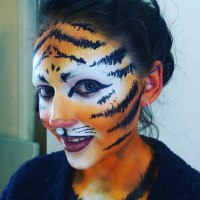 PatArt
Face painting, Balloon Modeling, glitter tattooists, popcorn, candy floss and mascot costumes hire
About PatArt
At parties we generally can paint about 14 to 17 guest an hour. For glitter tattoo and face painting we need little bit more time and we can paint about 10 to 15 people per hour.
Family friendly Body paint/zombie crawls normally takes about 10 to 20 minutes per guest.
For SFX we need approximately 1 hour.
Baby bumps/body painting, depending on how detailed, can take about 1 to 2 hours or more.
The paints we have chosen are water base, meaning they usually can be removed with a good quality baby wipe or a wet wash cloth. On occasion a little mild soap or baby shampoo might be required, but rarely anything more than that. As a general rule, they don't stain the skin (although you may want to be careful with light coloured fabrics). On the rare occasion a faint colouration remains after washing, it generally wears off quickly.
Our tattoos come off with baby oil. Just soak for 10 minutes or so, and rub off. No harsh soaps or chemicals are required for any of our products!
Lisburn
County Antrim
BT28 2GE

Get quotes from PatArt
and dozens of other professionals in your area