Whether it's an exquisite winter wedding, local street fair, a corporate event, your own mini-festival or anything in between, there's no better way to wow guests than hiring an impressive mobile bar. Don't be put off by the polished and charming appearances that look like they take hours to set up and perfect, all of these bars can quickly set up anywhere and crack on with serving your thirsty guests the good stuff!

With the events market booming and wedding season in full swing, there's no better time to share our run down of the 10 hottest mobile bars to look out for this year. We've looked at all the key ingredients of a great mobile bar to hire, including: styling, originality, the story behind the bar, reviews, specialities and, of course, the quality of the drinks and service – after all, these beauties are built for a purpose!
1) Prosecco Pronto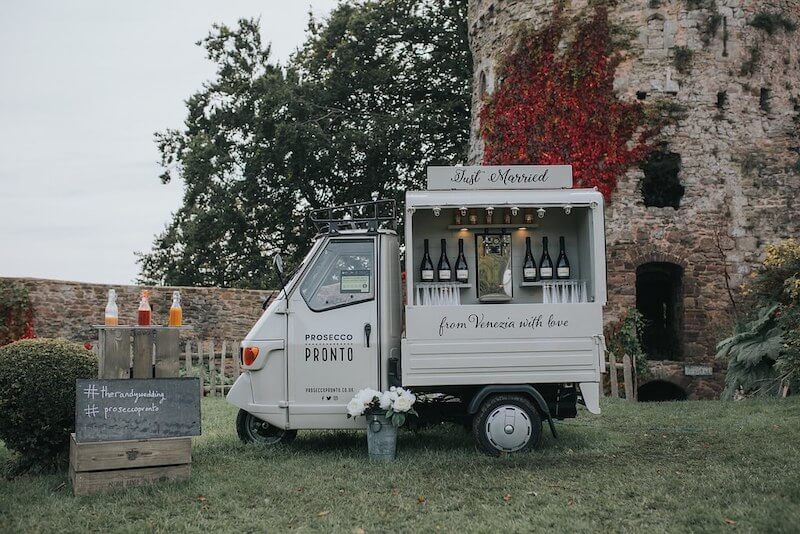 Originating from Venice and wanting to bring a slice of Italy home – this cute little outfit epitomises the recent rise of the Prosecco van in the UK. Prosecco Pronto's authentic Italian 3-wheeled Piaggio is the real deal and it certainly looks the part. The quality of the restoration and build is beautiful; your guests won't be able to resist a snap alongside it! A family run business, Prosecco Pronto chooses to 'supply the finest 100% glera frizzante, from Venezia to you with love'.
‍
2) Flair 'n' Funk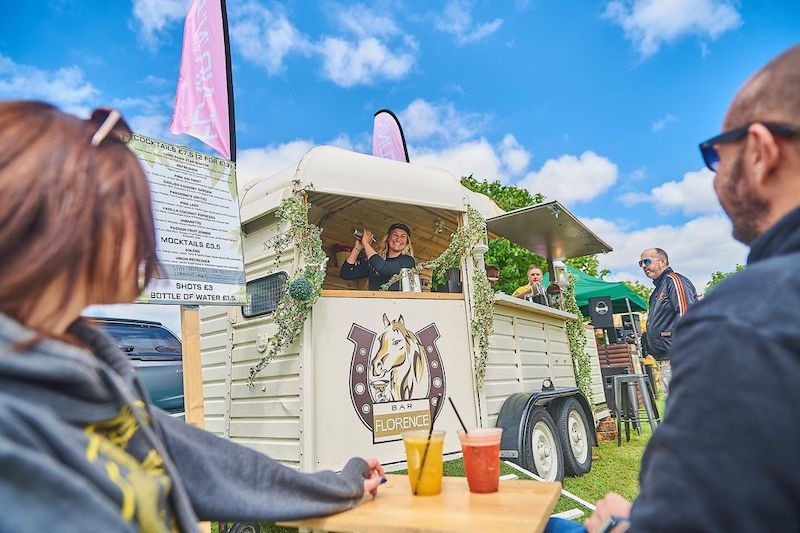 If flaming cocktails and juggling mixologists are more your thing then Flair 'N' Funk is the mobile bar for you. With an impressive collection of 'champion cocktail flairers' serving a vast drinks menu, this outfit is designed to bring that energetic spark to any event. Flair 'N' Funk have a range of bars available for hire depending on the criteria, our favourite is their tastefully converted horse-box trailer Bar Florence.
3) Bubble Bros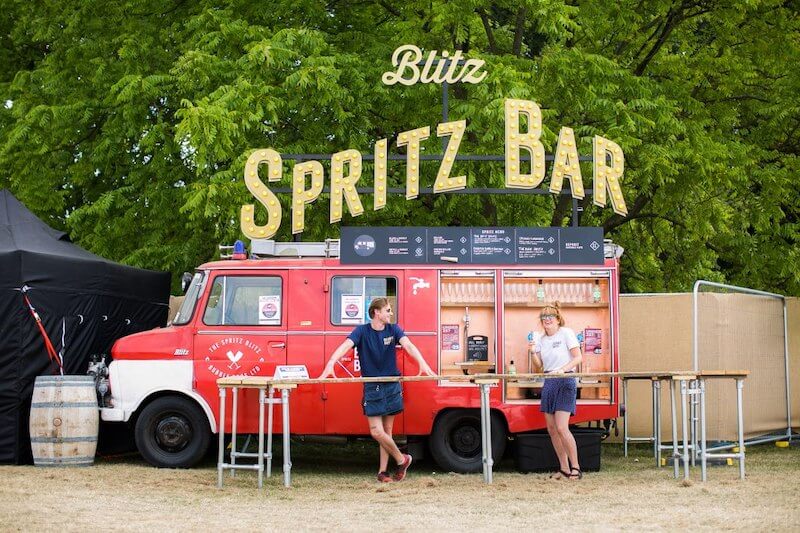 Next in our collection of Mobile Bars, you'll find The Bubble Bros. Dubbed 'The world's first motorbike and sidecar bar' we think this duo has nailed creating something both genuinely original and deftly functional. This unique little bar is the creation of friends Ben and Joe, who, after hearing a thirsty festival goer complain about the lack of cold prosecco decided to leave behind their hectic London ad-agency lives in pursuit of delivering perfectly-chilled bubbly to events across the country. And, if you fancy a craft cocktail instead, make sure you check out their converted 1970s fire engine, The Spritz Blitz!
‍
4) The Pickled Pony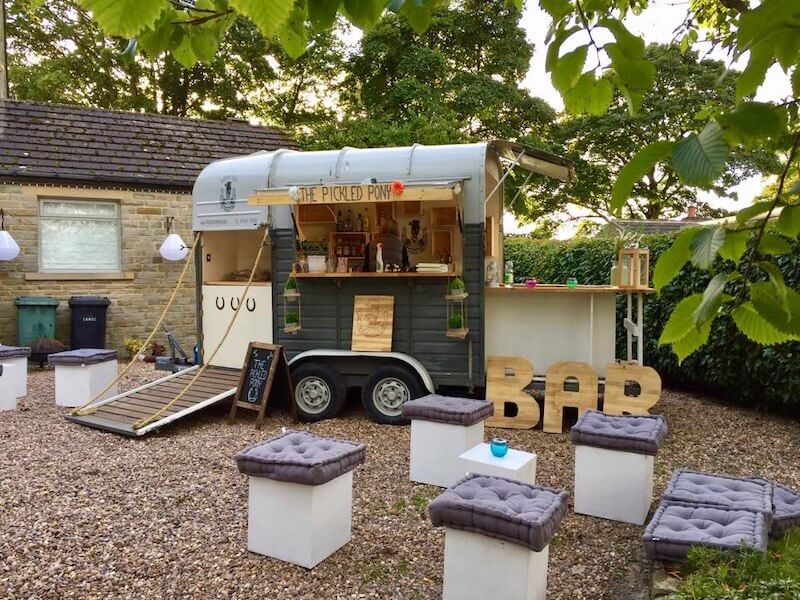 If you're after a traditional horsebox bar, The Pickled Pony is the one for you. Born in 2016, The Pickled Pony is a self professed 'quirky' mobile bar and coffee house on 'a mission to create a unique environment for gathering, grazing, or celebration'. The Pickled Pony was created out of our love for all things quirky, thinking outside the 'horse' box and providing a unique selection of bespoke drinks along with some classic favourites with a Pickled Pony twist! Booking The Pickled Pony to attend your event will give your guests a special and unique experience that will leave them happy as a Pickled Pony.
‍
5) Cocktail Chemistry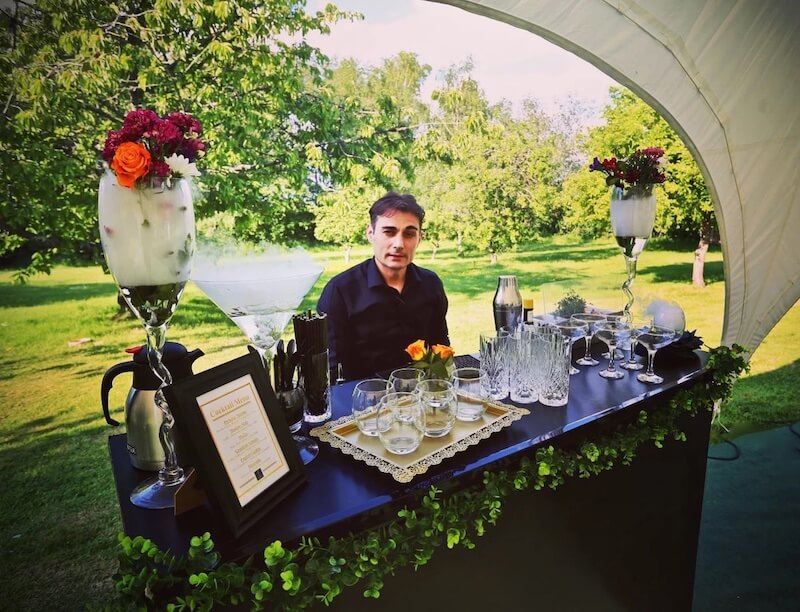 Up next is fun & funky craft cocktail bar - Cocktail Chemistry! Delicious cocktails, creative designs, tasty bites and lots of magical smoke will be sure to put a smile on your guests' faces as they take home an amazing memory. Cocktail Chemistry goes above and beyond with their service, producing all cocktails with a wide range of organic fruits and fresh, high-quality herbs and spices. And there's no need to worry about dietary requirements as all their cocktails are completely gluten free, using honey, agave and cane sugar to give their cocktails something sweet. Cocktail Chemistry can tailor their look to suit the theme of your event so whether you need a rustic pop up bar stall or an larger, light up drinks station - the team have got you covered!
‍
6) Kombi Keg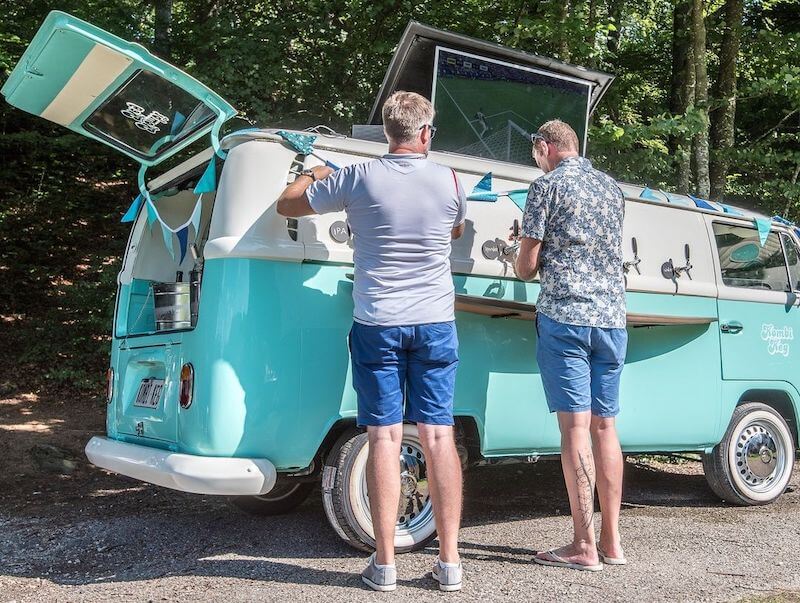 Venturing outdoors for a more vintage celebration? Check out Kombi Keg! Kombi Keg provides traditional mobile bars as well as their stunning converted Split screen camper van. This bright and funky converted camper van boasts 6 taps that can be filled with drinks of your choice - from draught beer to Prosecco, Pimms, wine, ales, soft drinks - or just about anything else you may wish to dispense! Completely adaptable to your outdoor events, this lovely team will go above and beyond to meet your requirements so your day can go off without a hitch. It's not a party without Kombi Keg!
‍
7) Bar Rah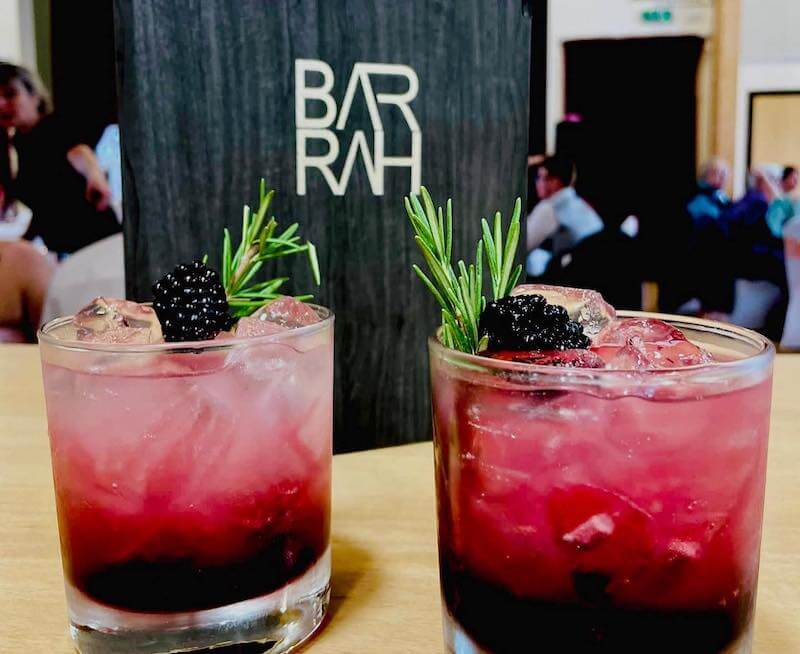 Up next is Bar Rah, the mobile bar company that does it all! From wine, spirits and beers, this pop up bar can adapt their look and feel to fit the theme of your event - whether that's rustic florals for your summer wedding or a more modern and sleek twist for your corporate party. More than just a stunning set up and delicious drinks, Bar Rah helps take the stress out of event planning with a wider range of services including marquee hire, chauffeured sports car, refrigeration, glassware, sound system and marquee hire.
‍
8) The Cocktail and Cupcake Club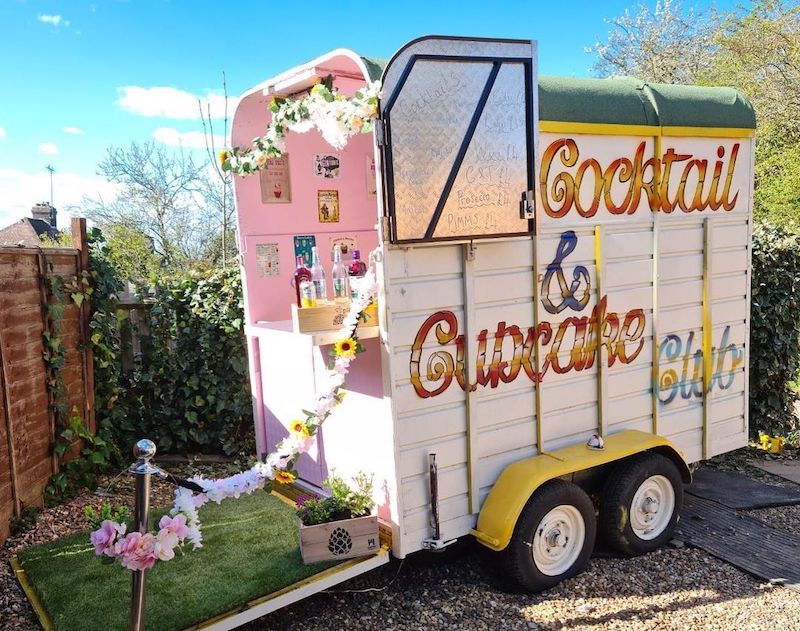 Time for something sweet! The Cocktail and Cupcake Club is a rustic horsebox bar set up by owner, Emma, who was on a mission to combine her two favourite things: cocktails and cupcakes - the sweetest combination. Offering both a pop-up pallet bar for indoor events and a traditional horsebox bar for your outdoor parties, Emma serves up a range of classic and unique cocktails - from cosmopolitans to a cobras fang. And, if you fancy a cupcake or two, you can pair your bespoke cocktail list with freshly baked cupcakes flavoured and designed by you. Emma has truly thought of everything, giving customers the option to match cupcakes and cocktails - how about a strawberry daiquiri or espresso martini flavoured cupcake? The Cocktail and Cupcake Club offers something for everyone from sweet-toothed youngsters to party animal adults who fancy a tipple!
‍
9) The Mob Pizza & Bar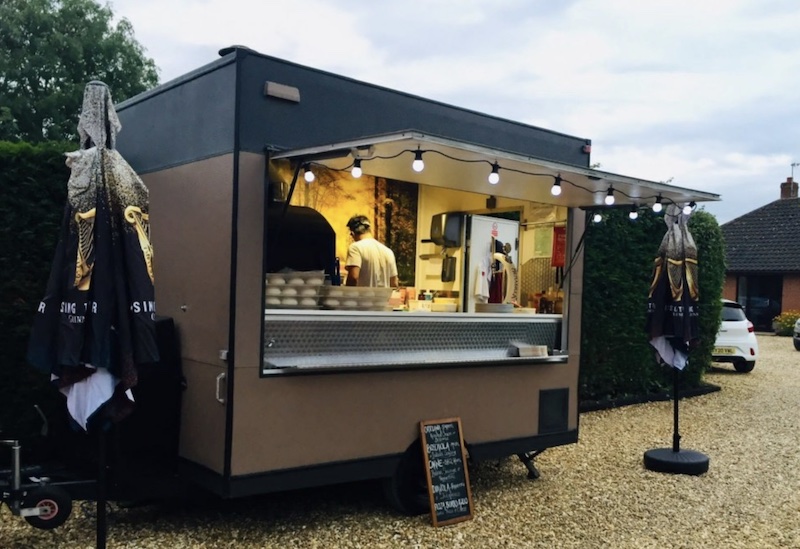 Another great mobile bar serving more than just drinks, The Mob Pizza & Bar does just what it says on the tin! Catering for all palates & all group sizes, specialising in Italian wood-fired pizzas that use handmade dough and fresh ingredients, this bar brings people together with a little bit of Italy in every bite & sip. Choose your favourites from a selection of Italian & French wines, Proseccos, Craft Beers & Italian Menabrea on Draft. Pizza and a drink - what could be better?
‍
10) The Gin Inn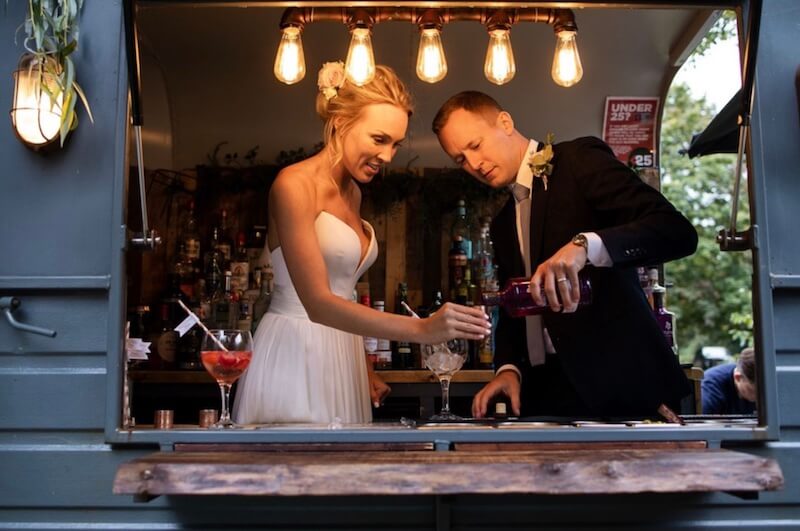 It wouldn't be a mobile bar list without a gin bar! Since the gin boom a couple of years ago, gin bars are all the rage. If you're a big gin fan, then The Gin Inn has you covered. With four options of stylish bars to hire along with bar staff and event accessories, The Gin Inn boasts a collection of over 100 different gins alongside a range of craft cocktails and draft beers. The team at The Gin Inn, create bespoke bar experiences tailored to suit you: want a special drink named after you? No problem! Cocktail hour? they're there! Cute picnic area to jazz up your event location - they've got it covered. Share your love of gin with your guests and the special team from The Gin Inn!
‍
We hope you've enjoyed our collection of the 10 best mobile bars and are ready to get tasting some of these delicious drinks (and snacks) at your next event.
Thirsty for even more inspiration? Head over to our mobile bars listing, where you'll find more passionate suppliers just waiting to get the drinks flowing for your guests. We have a wide range of options, including horsebox bars, prosecco vans, mobile gin bars, wine bars, whisky bars, craft beer bars and so many more fun tipples for you to enjoy, so no matter the type of event, location or budget you can be sure you'll find the right option for you.