How Much Should I Expect to Pay?
It's important to note that all ice cream supplier's costs will vary, depending on the package, the offerings, the quality and location.

Average cost for 100 guests on Add to Event: £225
Large events and festivals - if you're organising something on a big scale you'll have to set out guidelines for all of your catering suppliers. Depending on your event and the number of visitors you can guarantee, ice cream vans may attend for free. You might even be able to charge a pitch fee if you have a number of potential suppliers wanting to supply to your event.
Hire only option – this may suit charity events or circus fairs. You pay a one off fee to hire the van (and usually staff) and guests pay for what they buy.
Inclusive option – a popular option for weddings and corporate events, you tell your supplier how many guests you have and choose your ice cream choice from their list. You pay up front and your guests get an ice cream each (plus any extras you've arranged) on the day without having to pay anything.  With this option your number of guests and number of ice creams ordered will ultimately affect your cost per head.
Ice Cream Based Fixed Pricing
The type of ice cream will also make a difference to the pricing of your ice cream van. The following might give you an idea of what budget ranges might get you;

£1.60+/head - Ice lollies, Single soft scoop cone/small tub
£2+/head - single/double cone with sauce, toppings.
£3+/head - Large tubs/ double (or triple!) cones with luxury toppings, knickerbocker glories, gelato and much more!
Why Choose Ice Cream?
Our ice cream hire guide is here to help make your booking as easy possible so you can focus on all the other important aspects of your event. We set out the facts and some useful tips to help you decide whether an ice cream van, ice cream cart or tricycle is right for your event.
Having a clear picture of what you're looking for, making sure you're clued up on the details and know which questions to ask will make the process a whole lot easier, and will ensure suppliers provide you with an accurate quote.
There are lots of catering options out there – why ice cream?
Fun & Charming – ice cream is a treat, it's a fun, tasty extra to add to an event – a great way to thank guests.
Photo Opportunities – as well as providing an interesting feature or backdrop on the day, an ice cream van or tricycle is a great prop for photographs.
Any Event - An ice cream supplier would suit any number of events, from weddings, corporate events, birthdays, kid's parties, Eid celebrations, fairs and festivals, the list goes on.
Flexible – they're mobile so can be wherever you want them to be and you can tailor your package to suit your event.
What Are The Options?
Choose the best ice cream supplier to suit your event.
Modern Ice Cream Van
This modern style van is the kind you'll see on the street and is the most widely available option. Ice cream is served via the hatch on the side of the vehicle and there'll usually be lots of ice-lolly and fizzy drink options too.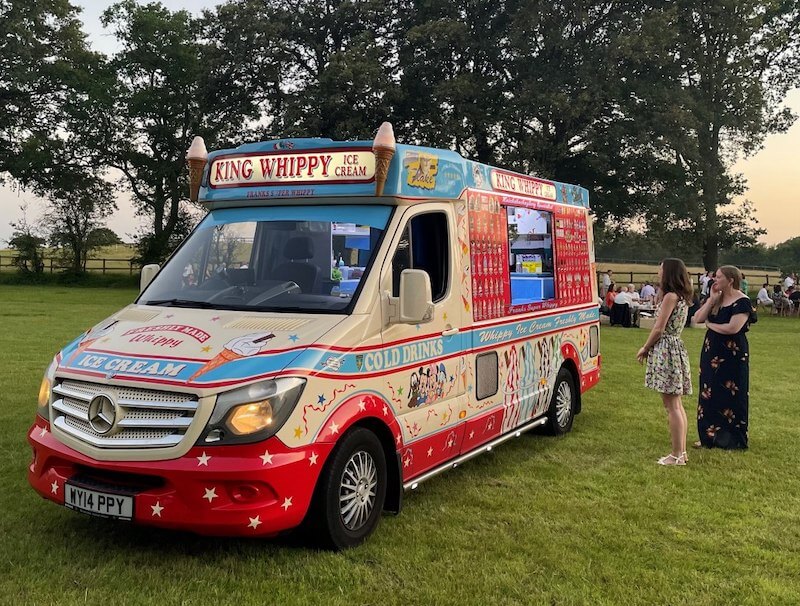 Tricycles or 'Trikes'
If you're looking for something a little more traditional, you could have your ice cream served from the back of a vintage tricycle or 'trike', giving your event an authentic, vintage touch.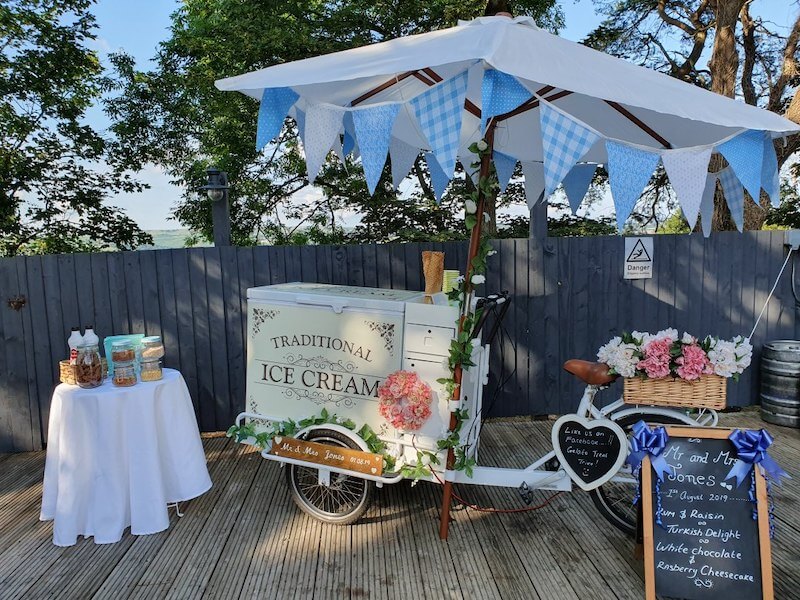 Vintage Vans
A vintage van is another great option, transporting older guests back to their childhood and capturing the imagination of younger guests. There are some fantastic, lovingly restored vans out there with lots of character.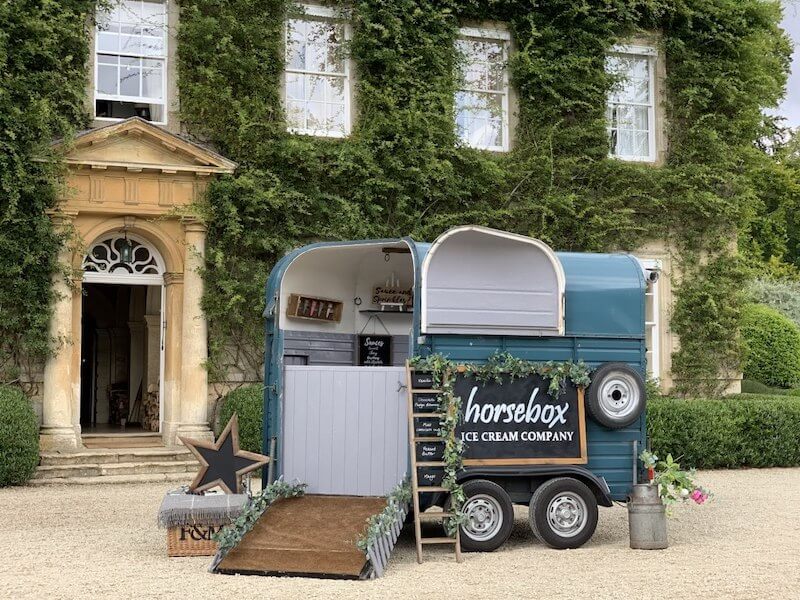 Other Considerations
If you have any doubts concerning your booking it is always useful to consider the following.
Does the unit come with a product ingredients list?
Does the van and the staff hold relevant food safety and hygiene certificates?
Does the service come with public liability insurance?
Check out reviews or recommendations from previous customers.
FAQs
Make sure you don't miss anything.
I don't want my guests to pay for the ice cream, what is my best option?
The 'Turn Up and Serve' option works as a fixed price menu, which will be decided upon prior to the day depending on your number of guests and ice cream preference. This option allows you to relax and enjoy yourself at the event knowing that there is nothing more to pay.
What if I'd prefer the guests to pay for the ice cream?
You can arrange to have the ice cream paid for by guests at point of sale. Prices for this option can be discussed with individual suppliers.
What if I am organising a charity event?
If you are organising a fundraising or charity event, companies may be able to offer you a percentage of the generated revenue providing there is sufficient footfall. This will have to be discussed with individual suppliers.
Can I come and see the van / try the ice cream first?
Most suppliers will be happy for you to come along and see the van or bike, and even try their ice cream beforehand so you can be sure you're happy with your booking.
Imagine your guest's joy as the merry jingle of an ice cream van draws ever closer. Watch as the nostalgia comes floating back when they're served one of the many sweet treats or icy delights on offer from some of the UK's best loved ice cream vans. Book an Ice Cream Van with Add to Event now.