With the increasing popularity of street-food markets and pop-up foodie culture, now is the perfect time to explore what's on offer to prepare you for the delicious seasons ahead. There's no denying that the quality and quantity of food vans have increased in recent years; gone are the days of needing to dine in or hire a caterer for an exciting, fresh culinary experience. Now you can find restaurant quality flavours and dishes from food vans at local music festivals, street fetes, weddings, and even garden parties.
In this curated list, you'll find our top 10 alternative food vans to book this season. We'll consider all the key factors: presentation, personality, styling, originality, the story behind the business, reviews and of course, the quality of the food and service. So whether it's a wedding, corporate event or mini festival, you can hire the best food for those hungry (and lucky) guests.
1) Duke's Pizza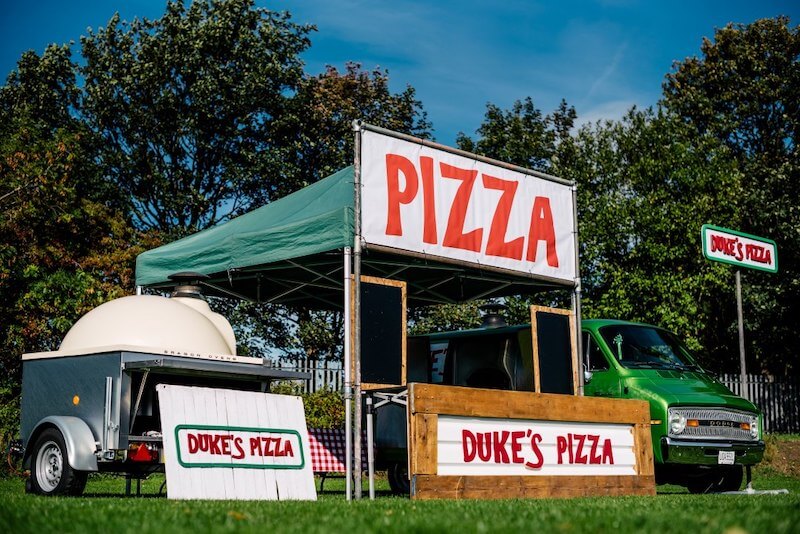 First up, we've chosen Leeds-based Duke's Pizza. Their striking 1972 Dodge Panel Van is a unique alternative to the vehicles we're used to seeing here in the UK, and the combination of metallic green paint, chrome, and their striking branding makes this a real head-turner! Husband and wife team Sarah and Darren utilise an impressive wood fired pizza oven to cook pizzas in under two minutes, at over 500 degrees. All Duke's pizzas are made from authentic imported Italian flour, along with the highest quality mozzarella and Italian tomatoes, with a choice of toppings – and with great vegan and veggie options too. Duke's Pizza is available for hire in the North and Midlands, and can cater to individual guests' orders or produce a buffet style offering.
‍
2) Hermanos Tacos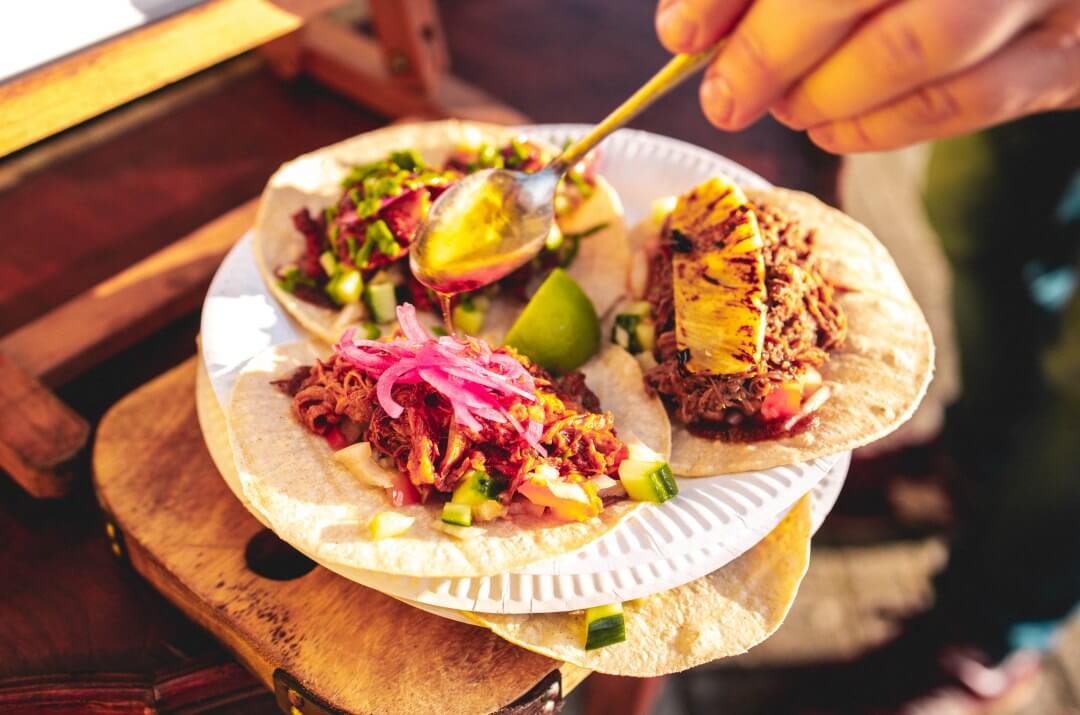 A list of great street food vans wouldn't be complete without tacos - and Hermanos Tacos is one of the best! After travelling and cooking throughout Mexico in 2017, Rupert and James decided to purchase their own food van and recreate the street food dining experience in the UK. Serving only the best quality produce from their 1967 Citroen H Truck, Hermanos Tacos offers a fresh take on traditional Mexican tacos. All tacos are served on a 15cm gluten-free soft shell corn tortilla with your choice of meat, fish, or vegan alternatives paired with a wide range of homemade chilli sauces, oils, and preserves. Offering the complete Mexican experience, the guys at Hermanos Tacos also serve up canapés, desserts, and a full cocktail bar - perfect for a grand fiesta or intimate wedding!
‍
3) Chop & Chip Co
'Seasoned quality chops and pulled meats' are what you'll be served from the polished 1972 Airstream kitchen belonging to Chop & Chip Co. A meat-lover's paradise, this slick outfit offers an impressive range of meats, fries, and sides, all created from the best quality chops and freshest spuds. Their menu includes classics like pork and lamb chops alongside some unique twists such as a pulled beef doughnut. With over 25 items on the menu including veggie options, your guests are sure to find something delicious to sink their teeth into. Boasting more than 160 reviews and a huge list of happy customers, Chop & Chip Co is a fantastic option for any event with hungry guests.
‍
4) That Fish Guy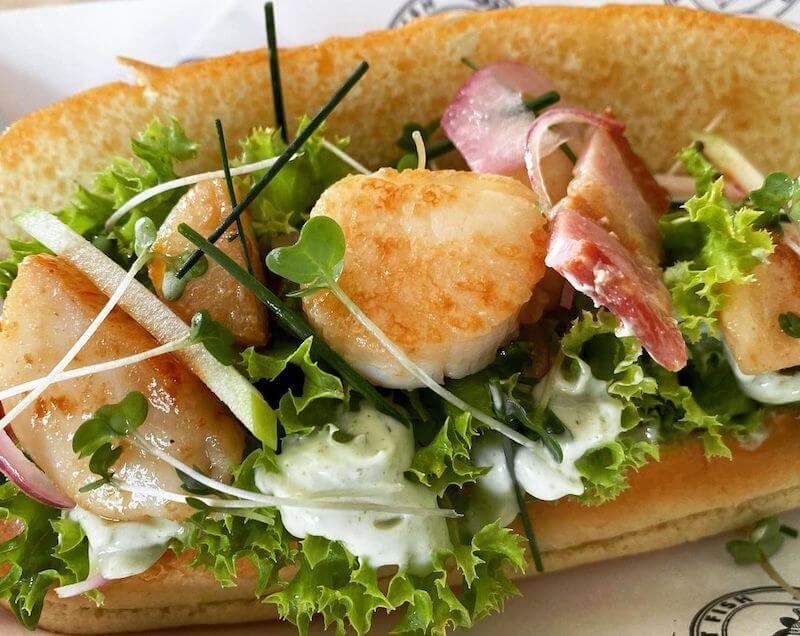 If you're into seafood then look no further! That Fish Guy is a gourmet alternative to the usual fish and chip vans you see dotted around seaside towns. Michelin Star creator, James, works closely with a team of street food traders to offer a variety of cuisines for varying events. As well as delivering food to hungry guests from the back of a van, specialist event catering is also offered. So whether it's a cone of fish and chips or gourmet wedding canapés – That Fish Guy has you covered.
‍
5) Gourdans Steak Frites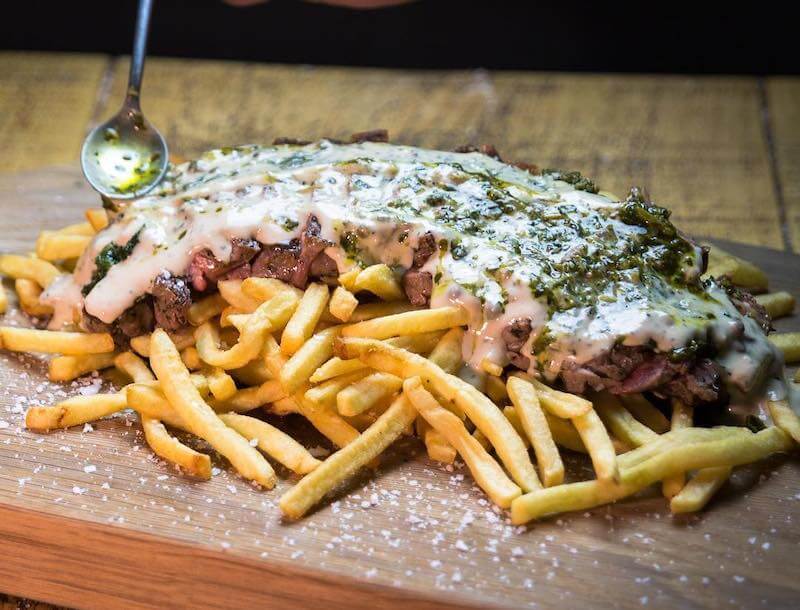 Serving up a beautifully authentic treat from their vintage 1973 Renault, Matt and Tina from Gourdans Steak Frites will have your taste buds tingling. Give your guests a beautifully authentic treat with this  delicious 21 day mature, British farm-assured Sirloin Steak, Belgium frites and a choice of scratch-made sauces. More than just amazing food, Gourdans Steak Frites made it on our list thanks to their consideration for the environment. Serving all their food in compostable packaging and using renewable solar power where possible to provide their lighting and water, you won't regret hiring Gourdans food van for your next event.
‍
6) Good Food On The Move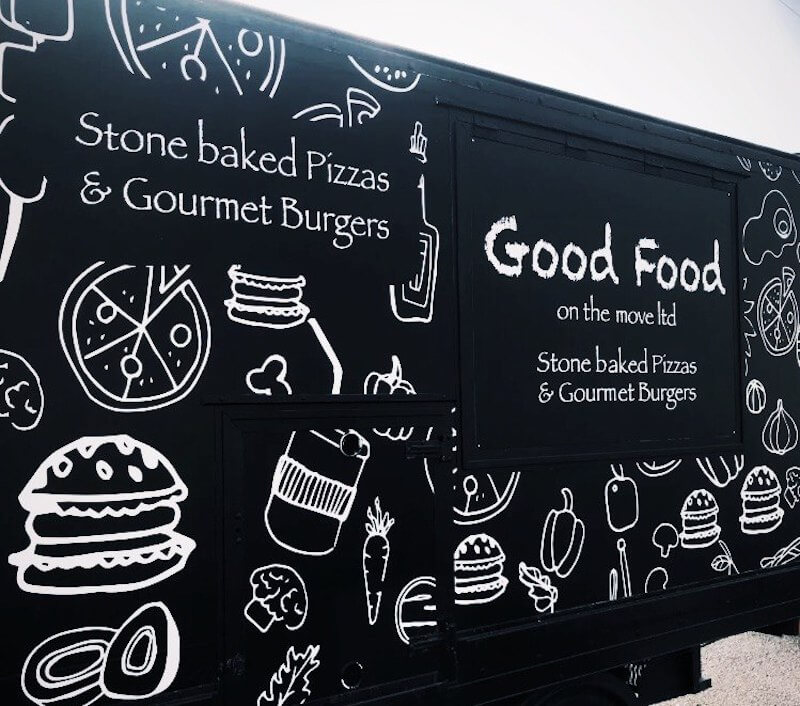 Whatever you fancy, Dom and the guys from Good Food On The Move have something for everyone. With a huge focus on variety, this mobile kitchen truck offers everything from Breakfast Sticks to Steak Burger Stacks, Southern Fried Chicken Stacks and even a Sweet & Sour Chinese menu! You'll find these guys roaming around Sussex, Surrey, Kent & Hampshire in their unique chalk-board inspired food van so you can grab your next good food fix.
‍
7) Ma Cherry's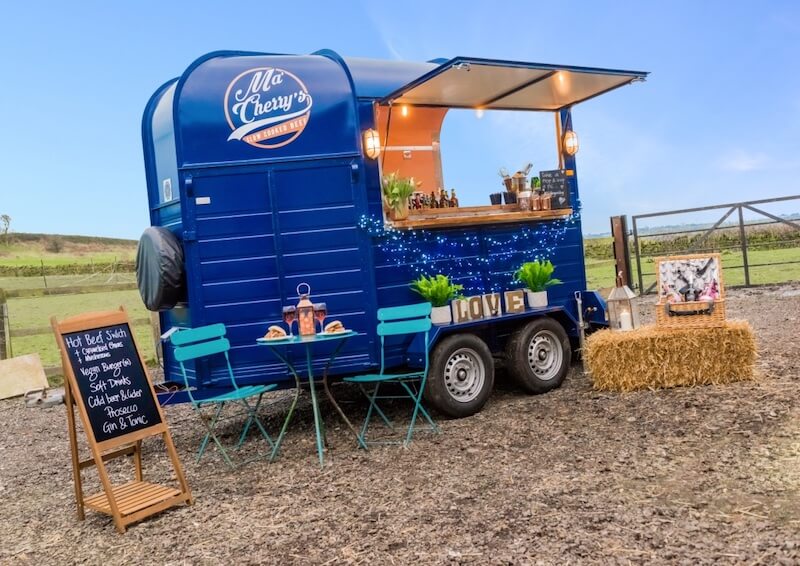 One for the meat lovers! Ma Cherry have been serving Slow Cooked Beef for many years in their meal prep business before deciding to take their delicious recipes on the road. Serving the ultimate Hot Beef Sandwich and Yorkie Wraps from their retro horse box van, your guests will be blown away by these unbelievable snacks. Cooked from a long standing family recipe that has been passed down over 3 generations, Ma Cherry takes the best locally sourced beef and cooks it to perfection before serving on a yummy white fluffy bread cake (or wrap). Plus, spice up the party with their choice of Craft Beers, Lagers, Ciders and Prosecco - bringing you the perfect food & drink combos.
8) TGDG - Tastes Good, Does Good!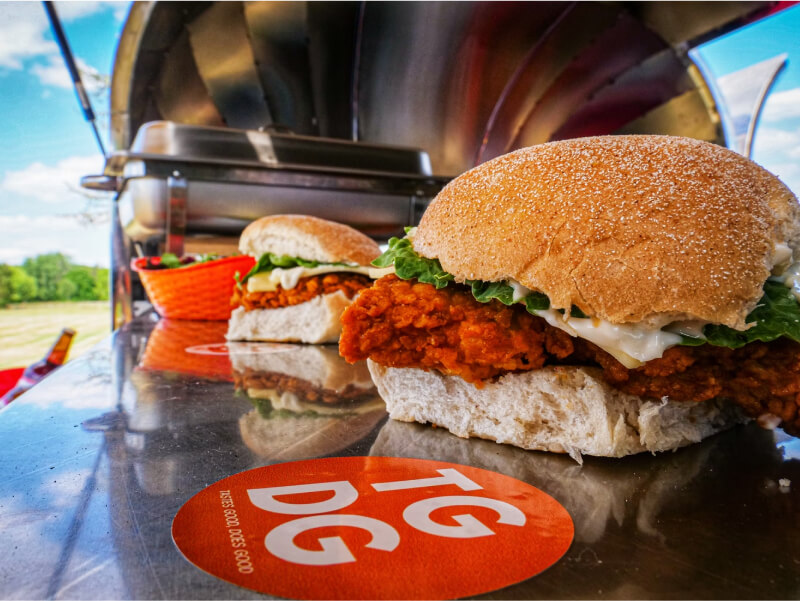 Another great food van with a conscience. Taste Good, Does Good is an established catering company based in the West Midlands. Not only do the team at TGDG produce tasty, high-quality food, they excel in their desire to give back to the local community by donating 5% of all their profits to feeding the homeless, as well as using biodegradable and recyclable packaging. TGDG can whip up a range of flexible menu options to cater to all dietary requirements, from mini sliders to hog roasts, wraps, pizzas and desserts. Combine this with their exceptional mobile bar and you're all set for a smashing party!
‍
9) The Bean Bike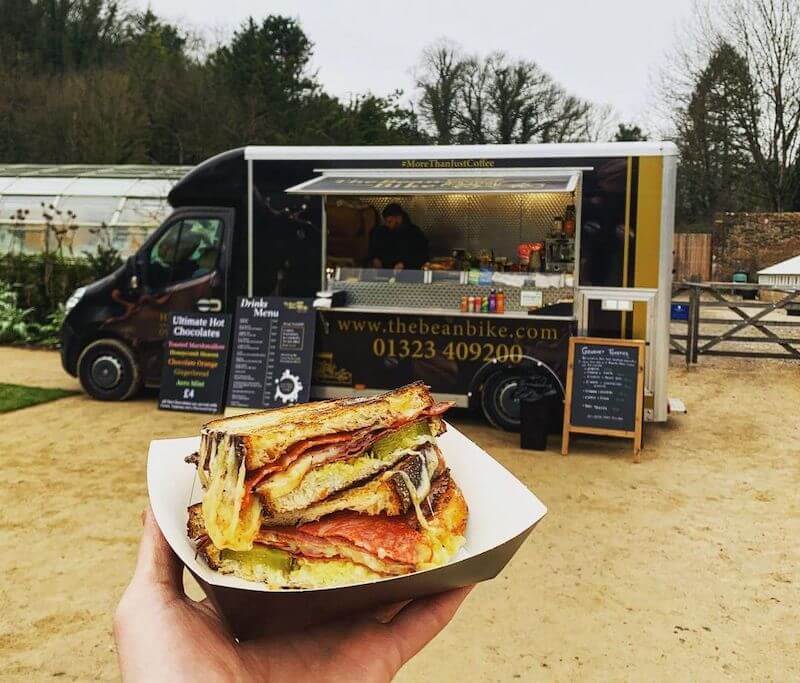 This street food van is different from the rest, serving up a crowd favourite - COFFEE! Started by twin brothers with a passion for coffee, The Bean Bike was a passion project to bring coffee to everyone across the UK. Since starting in 2016, The Bean Bike has grown from strength to strength, with over thirty units serving a lot more than just coffee. The Bean Bikes now serve a wide variety of cuisines including pie and mash, gourmet burgers, and wood fired pizzas for every occasion. Get your caffeine fix and give your guests a meal to remember with this great street food van!
‍
10) The French Revolution / Oui Crêperie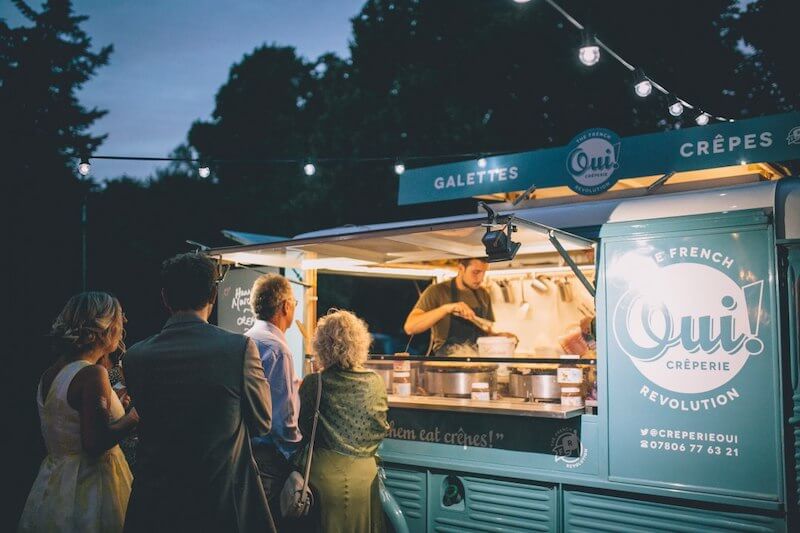 Finish off with something sweet with The French Revolution, the perfect ending for dreamy events. The French Revolution became Oui Crêperie when owner, Arnold, purchased his second Citroen H van to bring crepes and galettes (traditional Breton buckwheat savoury wraps) to events, parties, weddings, and festivals. Offering gluten free, dairy free, and vegan options, the owners use organic and free-range produce where possible and offer a variety of menus to suit you! The ultimate finisher for any great street food collection.
‍
You should now be bursting full of ideas for food vans available to hire for your next event and your taste buds ready for the experience. If you're still looking for further options and inspiration, you can find more delicious alternatives in our food vans category. We have amazing suppliers from all over the world delivering a huge range of cuisines and styles to the UK, so you're sure to find the perfect grub for any occasion that'll turn your guests from hungry to happy!