Since the pandemic, employees everywhere are on the hunt for a workplace environment that is fun, rewarding, and gives them a work-life balance. What better way to have some fun and show you care about your employees and their families than with a regular corporate fun day?
Whether you're looking for a way for your team to bond or perhaps celebrate a grand achievement, there is a lot to think about to ensure you create an enjoyable, entertaining and memorable day for your hard-working employees. Here we dive into some of the top things you need to think about when planning your day and offer a couple of great supplier recommendations to help you get started. Browse through our website to find a whole range of unique corporate services that suit your needs.
Identify Your End Goal
The benefits of getting your workforce together with their families away from the office are obvious, but when you're planning your corporate fun day it's useful to know your end goal: is it for development or reward? Maybe it's both!
Showing staff that you appreciate and recognise the work they do and celebrating their success can be fantastic for morale, and while your team members have fun making fools of themselves on the bucking bronco, they'll be building relationships and mixing with other departments too... Once you've completed a three-legged race with Paul from finance, you'll feel you know him a lot better by Monday morning!
These team-building activities, undertaken by choice and spurred on by family members, can be a lot more effective and genuine that predetermined 'team building days' or forced 'share one thing about yourself' tasks.
Also a great opportunity to reinforce company messages, values and culture, an event may help during big changes to an organisation or as a thank you following difficult or challenging times. However, the most important reason to hold such an event is to have fun, providing an informal environment for employees to relax with their peers – and you shouldn't lose sight of this despite corporate objectives.
Reasons to Celebrate
In case you need an excuse, here's some great reasons to throw a corporate fun day:
Business success, expansion or project completion
Employee awards ceremony
End of year annual event
Welcoming new members of staff
A thank you for hard work and support
Team building and development
Boosting morale
Reinforcing company values
Just for fun!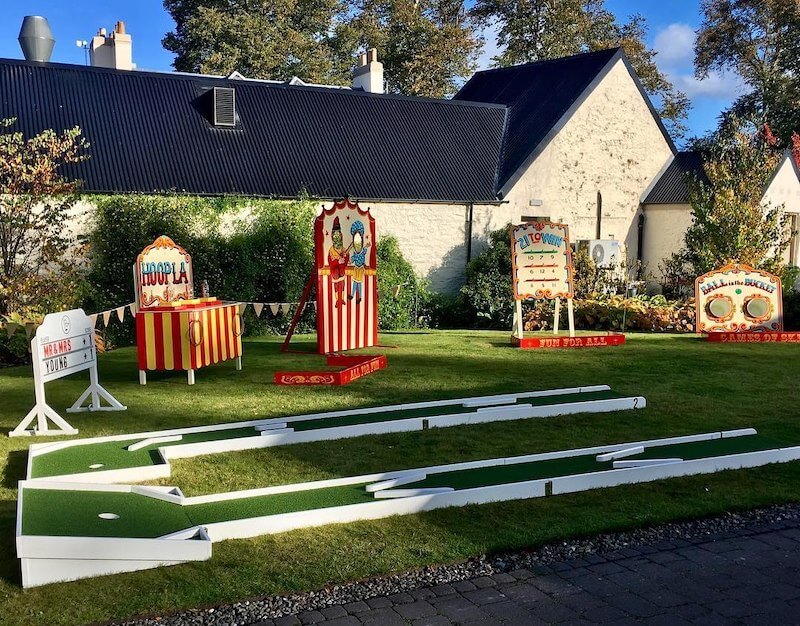 Piecing It All Together
Now you've decided what you want to achieve from the day, you'll need to think about suppliers that can make it all happen. And before you get too carried away with ideas of giant obstacle courses and mobile archery competitions, it's important you never forget about these three logistical considerations:
Venue access - can the suppliers you want set up their activities at your venue? Do you want to be outdoors or indoors? Is there enough space for everyone? 
Food and beverages - a fun day of activities takes up a lot of energy, so food and drink provisions are vital to keeping everyone happy!
Power & water access - many of the activities or other provisions you want to make will require power and water. How easy is this to access at your venue?
Now we've ticked off the logistical concerns, lets dive into the fun part - the suppliers! 
Fun and Games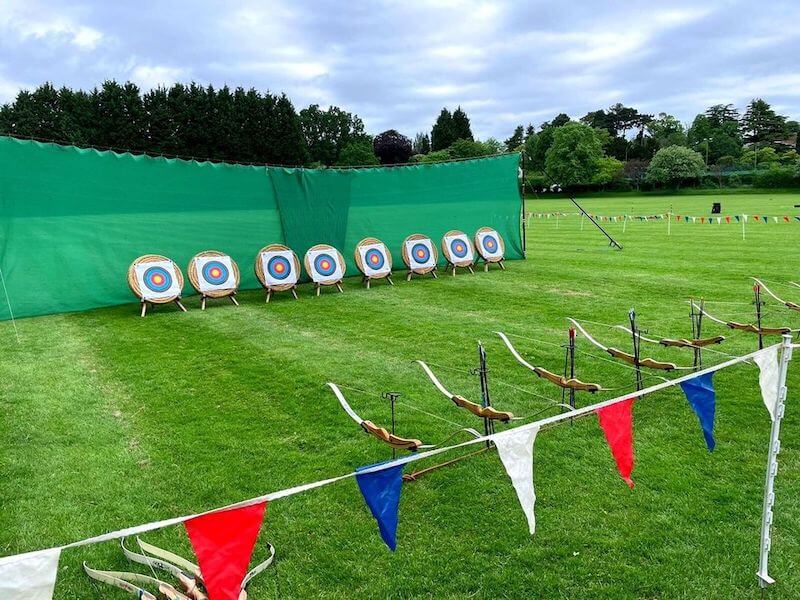 So you've decided on a venue to get everyone together, but what exactly do you want to do that will encourage bonding for your employees and their families? We have some ideas...
Inflatables
An essential for a family fun day! A family event wouldn't be the same with a bouncy castle bobbing about in the background. But don't just stick to tradition - dive in with a surf simulator, inflatable boxing ring, or even a total wipeout course!
Sport Offs
From traditional school sports day games, to table tennis and mini golf, these kind of outdoor team-building games get everyone mixing (including the kids) and friendly competition is a great way to get people to relax outside the office.
‍Hidden Talents
Try something new and unleash your colleague's unknown skills by offering something like a circus workshop or mobile climbing wall. While this might not be everyone's cup of tea, you'll definitely have some takers willing to give anything a go!
Craft Workshops
Having something for everyone is an important part of an inclusive corporate fun day. So, for those who are less able (or willing!) to dive into the physical games, offer a more creative option, such as indoor team-building activities like pottery painting or a cooking workshop. Or even something educational like an animal show.
‍Entertainment‍
Magicians, clowns and face painters will all help to keep your employees and their families entertained during the day. If your event runs into the evening, a band or a cabaret show could be an extra treat. Consider your audience and make sure you choose something suitable for everyone. Think about when they will perform and where – do they need a stage or space to prepare?
Food & Drink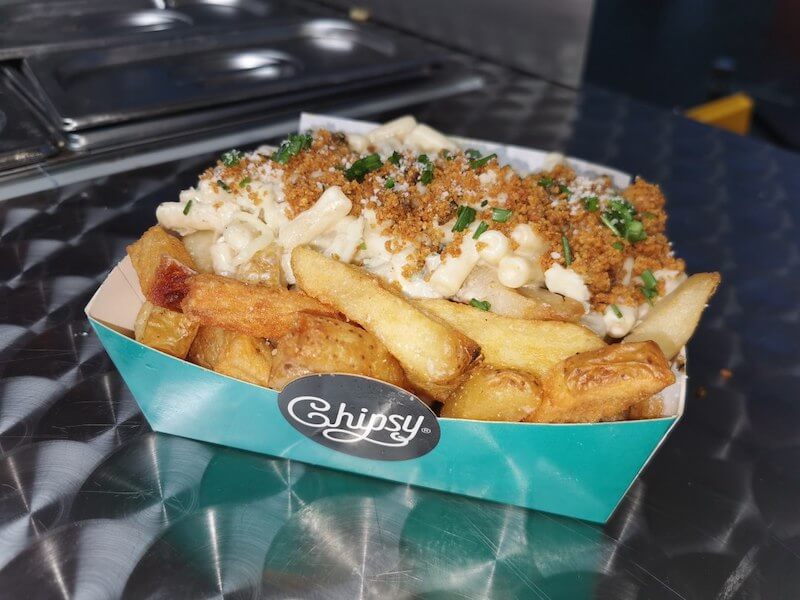 Okay, so you've sorted out an assortment of fun and games that you're sure will keep everyone entertained and bonding for hours. But what about the necessities? It's not a party without some excellent food and drink, so you'll need to consider your options:
Private Chef
If you're a smaller business, you may want to treat your employees to a sit down meal from a private chef. If you chose this option, think about a table layout that has people sitting next to those they may not usually interactive with.
Buffet
If you're throwing a slightly larger event and inviting children and families too, a buffet may be a better option. While a cold buffet is great, this isn't you're only option, think outside the box and look into different cuisines - perhaps you fancy a buffet filled with Mexican or Indian food? Or you might want to opt for something a little different and go for a hog roast or giant paella pan. This kind of food is cooked on site, smells fantastic and looks great!
Street Food Vans
If you're opting for a large outdoor venue and want to up the anti, think about hiring a few street food vans. There's endless cuisines to choose from, from the classic burger and fish and chip vans to more specialist vegan, tapas, and sushi options. Organising a selection of food vans gives your guests options and allows them to grab some food whenever they want it.
Sweet Treats
After their main meal, everyone fancies a bit of something sweet. Stick to tradition with family favourites like an ice cream van or candy floss machine - or opt for something a bit more unique with churros, pick n mix, or even some bubble waffles or crepes that'll have your guests on a sugar high!
Drinks
Don't forget your guests need drinks too. If you're planning a long day outside in the sun, a water station is a great addition. But alongside the basics, consider you location, audience, and timings - are you having a festival-themed day suitable for a couple of mobile bars and some cocktails? Or do you want to opt for some more family-friendly options - maybe a milkshake bar, bubble tea, or a coffee bar?
Don't Forget!
Dietary requirements – it's important to be able to cater for everyone, so if your caterer doesn't offer vegetarian, vegan, gluten free and nut free offerings, you may need to establish how many people have these needs before you confirm arrangements. It's very common these days to need alternative options, so don't forget to speak to your caterer about this.
Payment – You don't want people worrying about what they need to pay for on the day, so whatever you decide, make it clear what you're providing for free and what, if anything, employees need to pay for themselves. An advance payment or ticketing system could be useful and efficient.
Marquees and Tents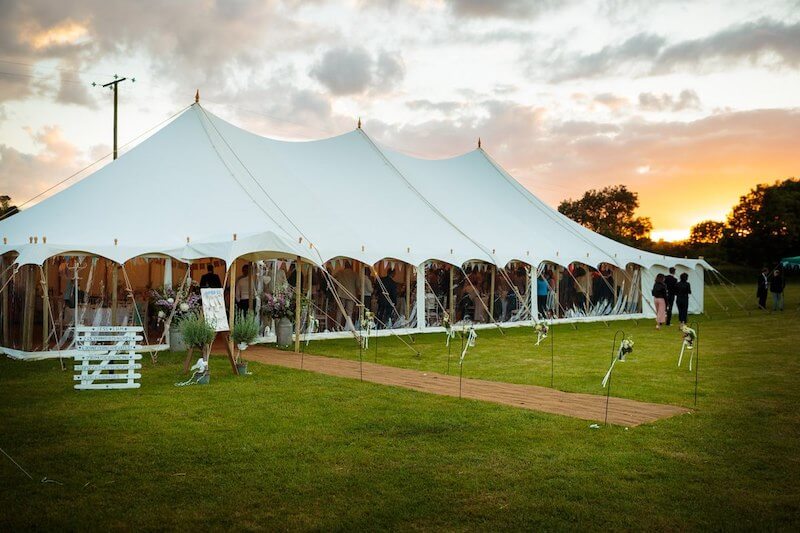 Depending on your venue or location, you may need to think about a marquee or tent for at least some aspects of your event. There's lots of choice so check out our marquee hire guide for advice and inspiration on everything from yurts to big tops or traditional marquees.
Top Tips
Once you've determined your activities and food and drink provisions, there's a couple more things to consider to make sure you day goes off without a hitch:
Establish a Theme
Even if you don't go the whole hog and have a full-on themed party, it's still a good idea to have a loose theme to help keep you focused and pull everything together. How about a nautical theme? Great for the kids to get dressed up, there's plenty of fun and games that will work well with this theme and your décor will be a breeze. Or maybe about a festival or circus theme if you want lots of entertainment? For something a little more general, use the seasons as your inspiration, think Halloween, spring time, summer picnics or winter wonderland.
Encourage Participation
You don't want your fun day to be like another boring old board meeting, so keep any speeches to minimum and avoid agendas and instructions. Naturally, most games will get people involved and exercising their competitive streak. Make sure you offer a range of active and competitive team games as well as some skilled, sit down workshops so there's something for everyone.
Evoke Anticipation
This is all about adding the X factor to your day! Whether it's booking a band or entertainer that will delight your employees or hiring something bigger and better than you've ever done before – create a buzz in the build up to the event. You may choose to keep your head-turner under wraps until the day or you might want to shout about it as soon as possible. How about setting the scene with a big top tent or stirring up some pre-match banter by offering a bubble football tournament.
Enjoy a Relaxed Atmosphere
Especially if the day is a reward for your employees, you want to ensure they're relaxed and enjoying the day. If it's a family event, make sure there's plenty to keep the kids entertained (and safe!) make sure there's sufficient food and a well stocked bar, create a chill out area, and make sure there is enough of everything to see you through the day.
Make it Memorable
Along with all your activities, make sure you take loads of photos of your corporate fun day that you can use throughout your social media and internal communications. This will help anyone who couldn't attend feel like they were involved while creating lasting memories and fun talking points when you're back in the office. If you're going to really go for it, why not hire a photographer, videographer or photo booth for some fun, professional shots?
Let's Get Started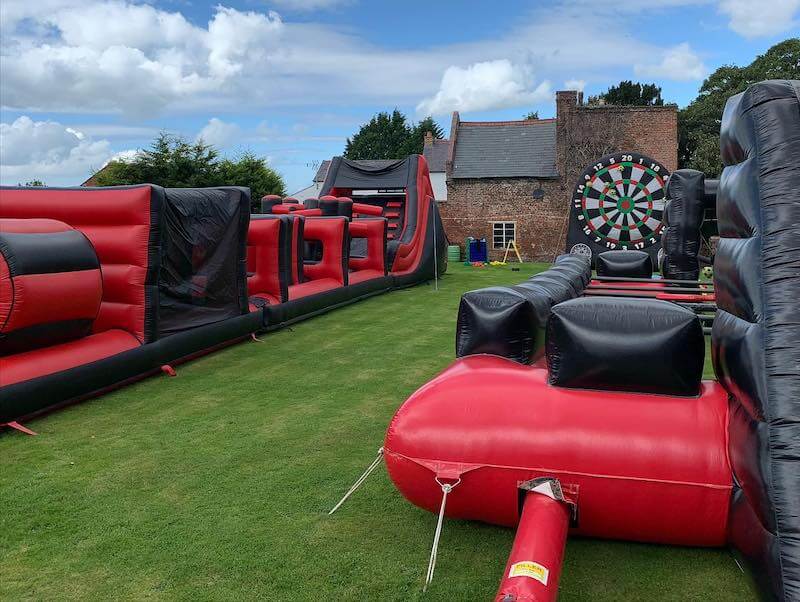 It goes without saying that the key to all of the above is in the planning and attention to detail. To help you find the right suppliers and make sure your corporate fun day runs smoothly we've set out our top tips and advice to get you started.
Check out the site – do you have enough space, is the ground suitable, are there overhead wires that will get in the way, is there good access, is there power and water close by?
Be safe – check your supplier's insurance, make sure there are first aiders or supervisors on site for larger events.
Check the forecast – have a plan in place in case the weather takes a turn for the worst.
Remember equipment and essentials – don't forget the lighting and sound equipment as well as any screens you may require. You may also need to hire loos.
Plan transport – how will you employees arrive? Is there parking, do you need to supply transport?
Mix It Up and Be Bold!
Mix things up a bit - it's too easy to get caught in the same routines, but as we've just seen there's plenty of choice out there for your corporate event, so it doesn't have to be boring! Get started with planning early and your event will be a sure success and, if all of these seems a little overwhelming, you might want to consider hiring an event planner to help you get the details right and take off some of the pressure.